Welcome to my Herbgarden
I love the way God lets everything grow around us and in our lives. I live in a cold country. We have all four seasons here, fall, winter, spring and summer.
Our Norwegian summer is a short one, but because of warm minds blowing from the Mexican Gulf all the way up to the North Sea, we can have beautiful summer temperatures.
The first spring flowers appears in my garden in April, in mid-May I can plant my seeds and my annuals, and the last roses and annuals can be picked in October. I love to pick roses and flowers for indoor decorating.
We don't have a big garden, but we use all part of it. The girls have a big playhouse where they love to play during the summer, and they have their own miniature garden outside this house.
We have a few big trees, one of them is a plum tree which gives us the most wonderful plums in the fall. My husband Terje is a master in the kitchen, and he makes the most delicious jams, plum jams, and also alot of other types of jam for all of us to eat during the year.
Giving away a beautiful glass or can of tarty jam is always something to make us popular.We have alot of berritrees in the garden.
I have a special area where I grow my roses, though they are not easy to grow here in the Trondheim area. My favorites are the old ones which I can smell when I look at their beauties.
Ihave a couple of flowerbeds with perennials, and I grow annuals everywhere. I start growing my annuals indoor in early spring, then you'll find all my windows filled with growing plants.
For me the ideal garden must appeal to all senses, to touch and smell as well as sight, so herbs play a vital role to me. I have grown herbs for many years. We have lived in this house for twelve years now, and the herbgarden was the first part of the garden I started to grow.
I used to dry alot of my herbs, but it seems like I never find time to do that any more. I freeze some, but mostly I use them during the season, from the first Angelica in March/April, till the last Parsley in October/November. And I use alot of my herbs in my cooking, and in the baking also. Not to fotget decorating cakes, sandwiches and salads with herbal flowers.
What I do every year is filling dozens of bottles with homemade herb vinegar. These bottles are ideal as gifts, and the herb vinegar is a must in my cooking.
I always collect antique (and new) bottles to be filled with this vinegar, and I'm well known for it among family and friends. I used to sell my herbvinegar bottles, but I don't do that any more.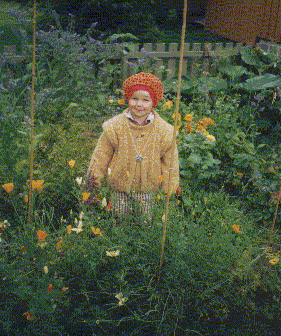 Here's my daughter Marta in my herbgarden. The summer of 1998. The knitted sweater she's wearing is my own design.
In my garden I grow
Alliums
Aloe Vera (only indoor)
Dill
Angelica
Chervil
Borage
Calendula/Marigold
Fennel
Sunflowers
Hyssop
Mints (various types)
Lemon Balm
Bergamot
Basil (mostly indoor)
Oregano
Scented Geraniums
Parsley
Sage
Thymes
---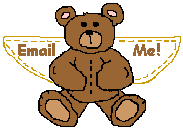 This page has been visited
times..